Roy's Run Donation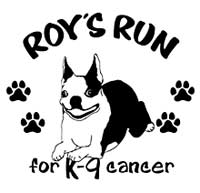 Animals fight many of the same battles we do against disease. Please join us in the fight against canine cancer by clicking the below link and sending a donation.
Roy's Run for K-9 Cancer Fund

Roy's Run for K-9 Cancer Fund Help Find A Cure!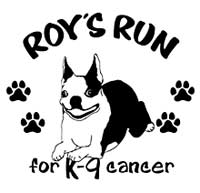 Roy's Run was started in memory of my first agility dog who we lost to an inoperable brain tumor.

Roy's story began with me looking for a companion Boston Terrier. After a long search, we found the perfect pup from Al & Rose Nicks, long time breeders / judges from Greenfield, Wisconsin. Roy came into this world on September 23, 1994. We met him when he was just a few weeks old and his eyes barely open, but I knew he was the one for me. After lots of weekend visits, and what seemed like forever for him to be old enough, we finally had our "Roy Boy" home Thanksgiving 1994.
Throughout his life Roy enjoyed trialing in UKC, ASCA, NADAC, USDAA and AKC, earning many agility titles. He even earned a few obedience titles, tried some lure coursing, was a Canine Good Citizen and Certified Therapy Dog.
In the fall of 2004 we noticed Roy was having some balance issues, and weakness in his rear legs. Numerous tests and an MRI at the Wisconsin School of Veterinary Medicine confirmed our worst nightmare, he had an inoperable brain tumor. Being told there was nothing we could do to help him was heartbreaking.
On April 5th, 2005 Roy let me know that it was time for him to go. Knowing he would soon be back to enjoying his agility with a body that worked like new, made it a little easier. But from that day on I wanted to do more to help others avoid having to go through cancer with their companions.
Roy made many friends in his life. We could never say "Thank You" enough to Dr. Heidi Jahn, Dr Linda Axnick, Dr Shawn Mulvihill, and Dr Keith Collins for all their awesome medical care. Special gratitude is also extended to Stacy Peardot-Goudy and Chris Bach for their training and encouragement. And of course to Al & Rose Nicks for allowing us to have Roy. My dear friend, Alice Applin was always there for us, especially at the end, when I needed her the most.
On January 15th, 2010 the "Roy's Run for K-9 Cancer Fund" became official with the University of Wisconsin School of Veterinary Medicine.
Our goal with Roy's Run is for it to continue as an annual event, which will raise money for Canine Cancer Research. Handlers will run their dogs in a Teacup Agility test for a nominal fee with all profits being given to the fund.
"Roy's Run for K-9 Cancer Fund" can also take donations via the web page:
http://www.uwfoundation.wisc.edu/giving?seq=9788
By mail, the envelope should be addressed to the following:
UW Foundation , US Bank Lockbox , P.O. Box 78807, Milwaukee, WI 53278-0807
Make checks payable to the UW Foundation and in the memo line put School of Veterinary Medicine - Roy's Run Fund.
Thank you to my husband Dave, Wayne Van Deusen, Karen Passow and Gloria Thomas for helping me create Roy's Run for K-9 Cancer. A big "Thank You" to everyone who will be coming to enjoy the weekend TDAA Test and helping us find a CURE!
- Deb Chvilicek